Comments from the Better Boards Conference:
"Light bulb presentation. Fantastic."
"Last speaker on patriarchy was amazing."
"This needs to be heard by so many more."
"Very important messages delivered superbly and with great artistic flair and intellect."
What is the most important question in the world today? I think it's this:
How do we speed up the dismantling of patriarchy?
Many leading thinkers agree that progress around every wicked problem, from climate change to human trafficking to family violence, is retarded by the toxic, archaic beliefs and behaviours that stem from patriarchy. There's little point trying to 'fix' the mega issues if we are not simultaneously chipping away at systems and cultures that perpetuate patriarchal norms. As I like to say:
Trying to change the world without understanding patriarchy is like trying to go to the moon without understanding gravity.
My small contribution to 'the dismantling of patriarchy' is this keynote:
Pozzy to Cozzy: Freeing our Planet from Patriarchy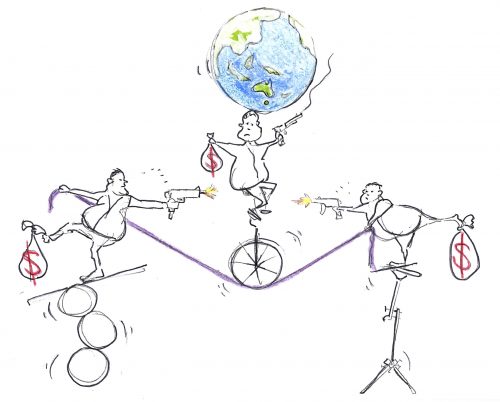 Spiced with art, poetry and satire, and based around a simple, memorable model, this entertaining, provocative presentation explores the current slow and painful transition from a patriarchal (Pozzy) 'human operating system' to a non-patriarchal (Cozzy) system. This transition is the umbrella megatrend that envelops other positive trends and issues such as women's empowerment, diversity initiatives, sustainability, ethical sourcing, and improvements to organisational culture and leadership.
Pozzy is my term for P-OS or Pyramid Operating System (today's dominant, dysfunctional and patriarchal way of being, living and working.)
Cozzy stands for C-OS or Circle Operating System (a new, more nurturing and non-patriarchal way of leading and functioning.)
"OMG how inspired I am!"
"Brilliant performer, very clever poetry."
"What a wonderfully humorous, relevant way to finish the conference…definitely the highlight."
What can be achieved via the Pozzy to Cozzy keynote?
Through 'Pozzy to Cozzy', I've tried to create a keynote that digs deeper, hits harder and is more meaningful than most. Why? Because it actually names society's biggest 'elephant in the room' – patriarchy.
The aim is to stimulate the deepest of discussions (Courageous Conversations) around notions of privilege, entitlement, power and control, ethical leadership and sustainable business. The intention is to get people to open up more than ever before. The time for tip-toeing around the elephant in the room is over – there's too much at stake not to.
Pozzy to Cozzy resonates deeply with senior leaders concerned with big picture thinking about the future of their organisations, and who realise the old ways are no longer working when it comes to dealing with complex challenges and opportunities.
It highlights the advantages of moving away from a society based on 'command and control' leadership, and towards a more sustainable, equitable and ethical world.
It frames conference themes within the broadest and most critical context. As such, it's an ideal opening or closing keynote. When used as an opener, it sets the tone for the entire meeting.
How does the presentation unfold?
I kick off as a hoax American expert on patriarchy and its influence on society. Here's a half-minute gag from the set-up…

And here's how our US friend introduces the topic of patriarchy…

He then satirises certain hyper-masculine traits. (Very relevant to this audience of Directors as, in the board room, such traits may form a barrier to effective discussion and decision-making.)

The fake Yank then outlines the Pozzy to Cozzy model…

Out of nowhere, he temporarily abandons his American persona to deliver this satirical routine as a pompous Pom…

About two-thirds into the presentation I become myself and continue with entertaining yet thought-provoking material, such as this short poem…
"Graeme presented a hoax character at the Better Boards Conference 2017 to a room of 500+ and impacted all by addressing strategic content in line with the conference themes, issues of Patriarchy in leadership and society as well as equity, organisational culture and values. Never missed a beat in maintaining an entertaining persona, delivery and content. A stand-out presentation which received a standing ovation. Graeme is a superlative speaker and has a great keynote able to address meaningful and relevant themes while engaging and holding his audience with delight throughout."
I'm very open to working with you to extend the keynote into a workshop tailored to your own organisation.
By the way, much of the material in the keynote can be scattered throughout a conference or event via a Master of Ceremonies role, as an alternative to delivering it all at once in a single presentation.
If you feel a Pozzy to Cozzy keynote and/or workshop could kickstart some Courageous Conversations with your own organisation, please get in touch to discuss possibilities.