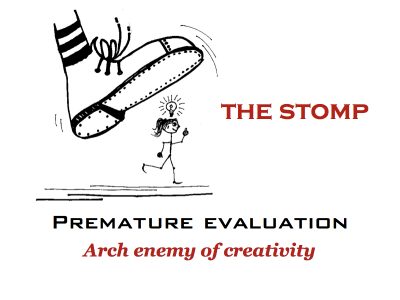 "Your combination of humour and substance delivered the message very well. The feedback I have received has all been very positive."
KPMG
"Our audience was very diverse, being a mix of scientists and administrative people, but your highly entertaining and informative address easily held their attention, and gave them insights into how to think more creatively."

CSIRO Mathematical and Information Sciences
"The creativity keynote was excellent – based on valid de Bono theory. It gave generic solutions that could be adapted to our work. The audience just loved it – plenty of humour with some side-splitting moments – very clever content."
Box Hill Institute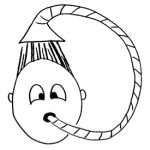 I'm an experienced Lateral Thinking facilitator, and my entertaining keynote, How to Suck Great Ideas Out of Your Head, hones in on the attitudes and skills needed to create innovative ideas – the sort of ideas that save money and make money.
This address will motivate your people to challenge their current thinking style, and show them how to escape from old ideas and generate new ones.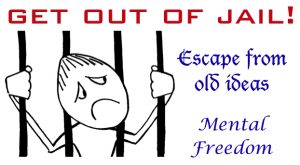 This humorous but informative presentation is designed to keep your audience laughing and learning, even during the graveyard shift after lunch.
The keynote can also extend into a workshop, where participants get the chance to put creative thinking tools into practice. These tools can also be integrated into a formal Six Thinking Hats workshop.
My creativity keynote can also be combined with a hoax speech, through my unique presentation, Uncork your Creative Genie. (Scroll down for more information.)
Check out the video and audio clips on this page, to gain an insight into my approach.
"You had the team captivated right from the start, and have found that great balance between entertainment and dealing with the serious issues at hand. I would not hesitate to recommend you to other organisations that are looking for a guest presenter to cut through the 'sameness' of a conference and deliver a strong but entertaining message."
Agfa-Gevaert
"With little preparation time, Graeme was able to tailor his presentation to our complex industry, and facilitate a worthwhile two hour workshop. The response from my management team was very good. They enjoyed the session and saw value in the creative thinking tools."
Computershare
Uncork your Creative Genie
"Uncork your Creative Genie was not only very entertaining, but also carried with it an informative message . . . an extremely positive response from our delegates."
Aged Care Association of Victoria
"The session you delivered was tremendous. Conference feedback scored it at 93% . . . the best ever result from any conference we have participated in."
Vero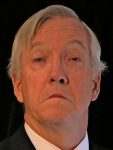 Can your people tell if something is true or false? Real or fake? More to the point, when Dr Elwood Jefferson takes the stage, will your audience be able to separate fact from fiction? Because, in this unique presentation, your audience is going to get both: genuine tips on how to think more creatively, plus a hearty dose of codswallop. And plenty of laughs.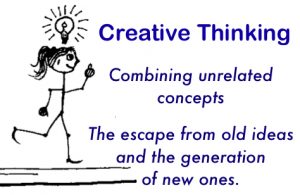 Uncork Your Creative Genie combines the Hoax Speaker concept with key elements from my creativity keynote, How to Suck Great Ideas out of Your Head. A similar approach can also be used to lead into a creative thinking workshop. It's a great way to entertain and challenge even the most hardened audience.
Because of my experience as both a hoax speaker and Lateral Thinking facilitator, I reckon I'm well qualified to take your audience on a highly stimulating intellectual roller-coaster, while also outlining skills and attitudes that generate innovative ideas.
"The way you blended a hoax speech with a real presentation on creative thinking was very entertaining, informative and thought provoking. Looking at the audience, there was a mixture of laughter, puzzled expressions and genuine appreciation for what you were doing. A great boost to our conference, with excellent feedback from delegates."
LG
"The session was extremely well researched and put together by Graeme, and his ability to deceive a somewhat cynical audience was testament to his talent."
Victoria Police
"Not only were you consistently labelled as one of the most entertaining and useful speakers, people thought your style and content were "fantastic" and "brilliant"! Many people thought that you were indeed the highlight of the event and found real value from your workshops.."
Association & Communications Events